The Fighting Pattons presents a unique view of a military family with 79 years of continuous service from the punitive action in Mexico in 1916 through Vietnam. The towering figure of General George S. Patton, Jr. had gained legendary status by the end of World War II when Major General George S. Patton began his career and carried the family military tradition into new areas of warfare and geography, both in Korea and Vietnam.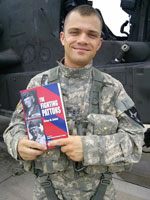 Chief Warrant Officer 2 Robert Hodgson
displays the book he is reading while
serving in South Korea.
Visit our new page with more photos:
Photo Gallery